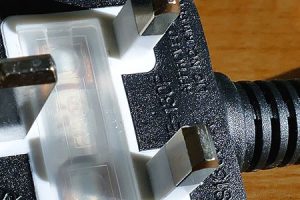 As a commercial or domestic property ages or the occupants' demands on the building change, circuit alterations and additions may need to be made to the commercial or domestic wiring of the property.
A circuit alteration involves adapting or extending one or more existing circuits, to add a socket for instance, or replacing consumer units (a fuse box) or switching equipment. A circuit addition, on the other hand, entails the modification of an existing installation with the addition of one or more completely new circuits.
Compliant with Building Regulations
Our knowledgeable and fully qualified electricians offer a full or part rewire service for properties whose commercial and domestic wiring needs upgrading to meet current standards. Electrical Safety- Dwellings Approved Document Part P does not cover existing wiring installations but if 'significant alterations or new additions' to the wiring of your property are made then the regulations must be followed.
If the significant circuit alterations or new additions harm the safety of the existing installation or the current electrical installation is in such a bad condition that the new circuit alterations and additions cannot work safely, the existing electrical installation in your property will also need to be upgraded to satisfy current standards.
Our experienced electricians are fully compliant with BS 7671- the British Standards for Requirements for Electrical Installations-  as well as Approved Document Part P whenever they carry out new circuit alterations and circuit additions to commercial or domestic wiring. They can ensure that the condition of existing equipment is fit to carry additional loads brought about by the new circuit alterations and additions.
Certification
At Green View Projects, we supply you with all the electrical safety certificates and paperwork that you need following any electrical installation work and testing that we carry out. The electrical safety certificates we provide you with will feature schedules of inspections and test results of your electrical circuits, systems and appliances. This will also mean that the details of your electrical installation work will be enrolled on our maintenance schedule. This means we will contact you when the maximum time has passed for re-testing your installation in case you were not aware of keeping your insurance valid.
As an official confirmation that any new electrical installations, circuit alterations or additions were safe to use at the time they were first implemented, we issue you with Electrical Installation Certificates (EICs) and Minor Electrical Installation Works Certificates (MEIWCs) accordingly.
It is of paramount importance that you keep any electrical installation certificate you receive from a registered contractor like ourselves as it provides electricians with vital information they need when they next come to carry out additional works, inspect or test your electrical systems. This means they do not have to charge you for their extra time and services in investigating the condition of your property's wiring when your electrical safety certificates already hold all the answers they require.
Commerical Properties
If you are a commercial property owner your electrical safety certificate can serve as evidence should an employee or visitor to your business premises claim that an injury or fire was caused by a faulty electrical installation, so it is in your best interest to keep safe any electrical installation certificates you are given.
Your Electrical Installation Certificate will inform you of whether the electrical work carried out was a completely new installation, a circuit alteration or circuit addition. Electrical Installation Certificates have to be issued for all new electrical installations, sometimes including those for circuit alterations and additions, especially if a new circuit was fitted.
For an efficient, transparent and reliable circuit alterations and additions service for your home or business property please contact us on 01422 356 222 today.